At Arriola Sunshine Farm we are in the business 

of harvesting solar energy. We create healthy land, healthy animals, healthy people, and contribute to our local economy! 



We breed registered Navajo-Churro Sheep. 

We sell breeding stock, butcher animals, pelts, raw fleece, roving, yarn, and other fiber products. We are participants in the Livestock Conservancy's Shave'em to Save'em program.

To purchase our beautiful wool, pelts and skulls
please visit our farm store at 
https://sunshinenavajochurro.com
Visit us on Facebook  for latest updates and to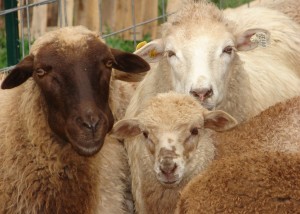 view our photo album
Click here to Contact us through this page or message us on Facebook with your inquiries. 
Our entire breeding flock is registered with the Navajo-Churro Sheep Association.  Each year we offer 35-50  lambs suitable as breeding stock along with a handful of mature sheep.  Our next lambing season will be April 2022.  This year we bred with five rams. Please contact us with inquiries about breeding stock. We will be happy to work with you.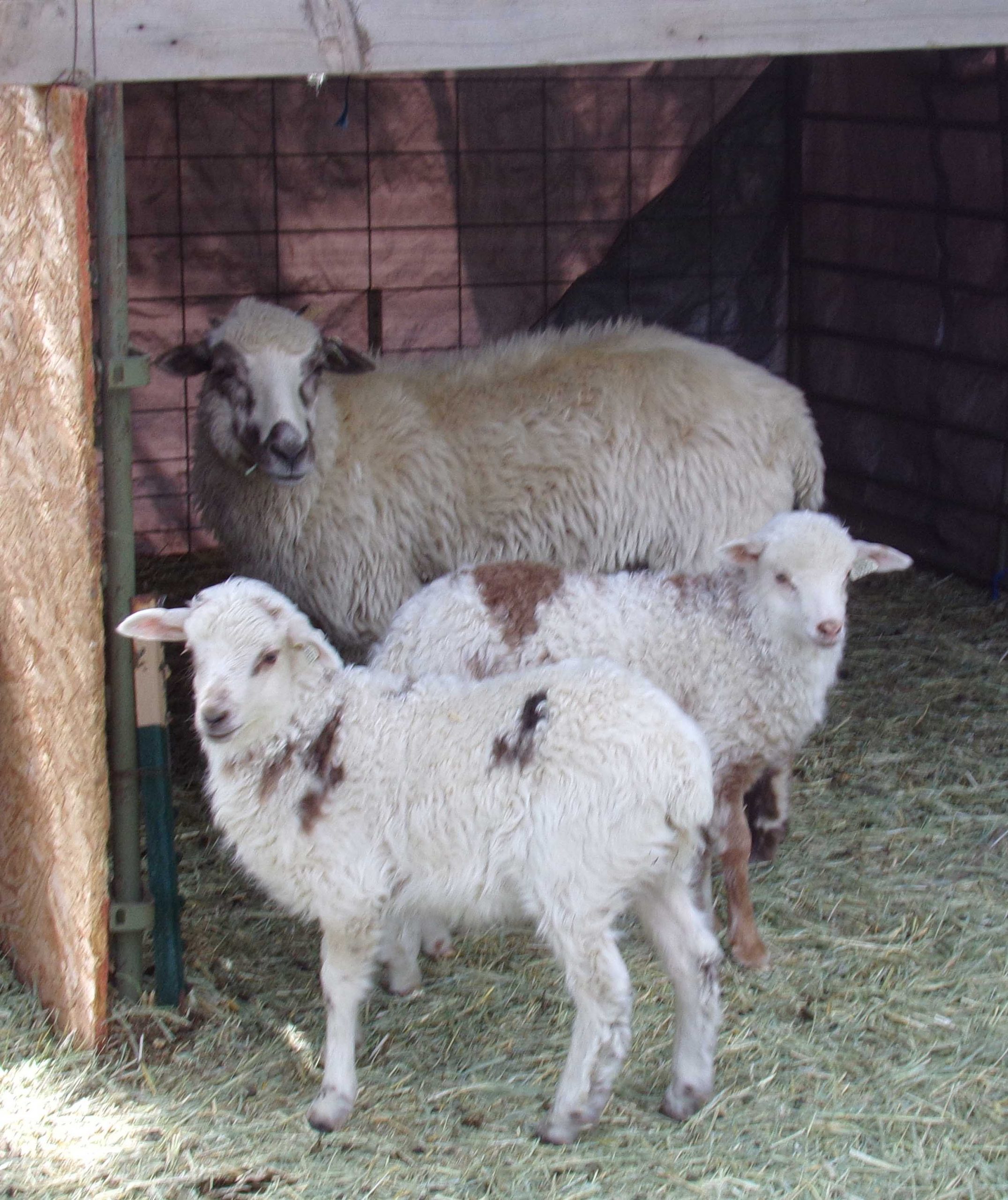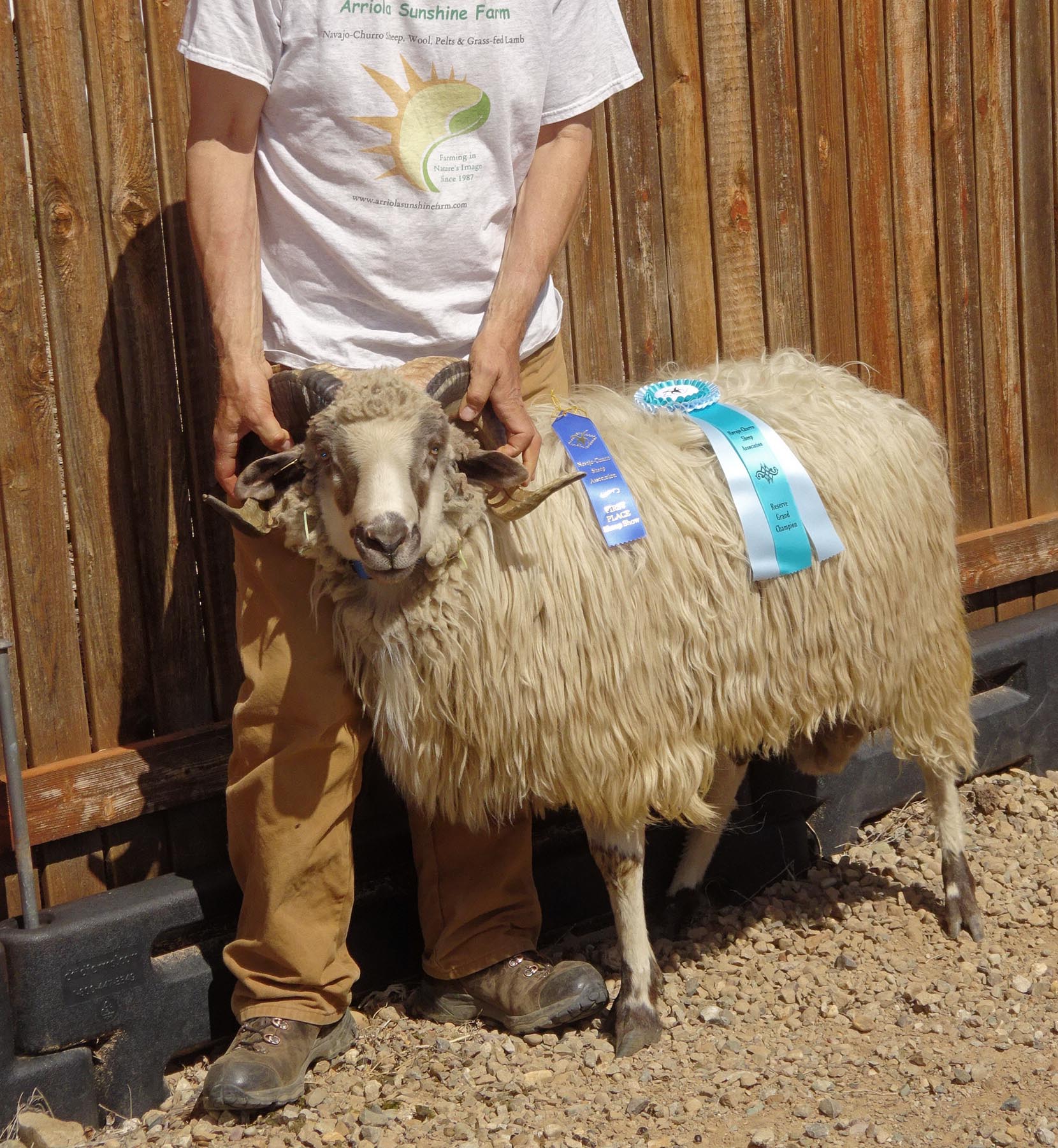 JJ's Best Boy – Reserve Grand Champion – (nick name is BB) 
Working with Nature
We produce abundant life on our farm, using nature as our guide and practice the holistic management of our resources. We generate real wealth in terms of solar dollars earned from collecting solar energy with green plants to create healthy food, people and animals. We also sequester carbon with green growing plants and turn it into soil with the aid of our grazing animals and poultry.
Working with nature to enhance our ecosystem includes promoting and sustaining healthy habitat for soil microbes, insects, animals, plants, and birds. We raise the majority of our food as well as wool and other products. Participating in our local food system is rewarding and enhances our economy.
You can taste the difference! Managing for healthy soils means our produce and meat products are packed full of nutrition. Our irrigation water from mountain snow melt is fresh and clean. Each night cool, pine scented mountain air flows through our garden and pastures enhancing the sweetness and flavor of our produce!
We Promote Heritage Breed Conservation
We are adamant about the conservation of  endangered domestic livestock breeds.  These breeds enhance the genetic diversity of livestock and are important to America's rich history and culture.  Without special care to conserve these genetics, we are at risk of losing important characteristics and products these breeds offer.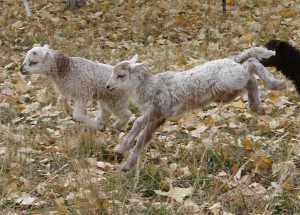 Navajo-Churro Sheep are unique to the valleys, mesas and mountains of the Southwest, primarily the Colorado Plateau and Upper Rio Grande Valley.  They are descendent of sheep introduced by Spanish conquistadors. Through the centuries they were nurtured by Hispanic and Navajo shepherds and are now considered  the first domestic sheep to be developed in North America. They are listed as endangered by The Livestock Conservancy and are on Slow Food USA's RAFT.
Through selection and the husbandry and stewardship of Navajo and Hispanic shepherds they became adapted to the varied landscape and erratic climate of the region and thus are considered to be a land race breed.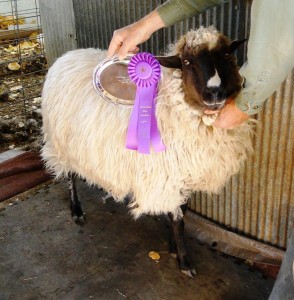 Conservation of this sheep breed is critical to sustaining traditional Navajo culture and ways of life as well as both Navajo and Hispanic artists that cherish the wool. We promote the success of our fellow shepherds in the Four Corners Regions  through networking, education collaboration & sharing.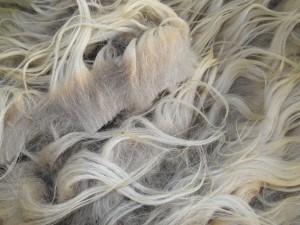 The fleece consists of a medium to fine inner coat with a coarse outer coat. This type of wool is excellent for spinning and weaving, felting, braiding and other uses. It is suitable for many types of outer garments and upholstery. A small amount of kemp is also characteristic, lending a rustic, tweedy look to fiber products. High luster and durability make this an excellent fiber for traditional Navajo rugs. Fleeces come in a wide range of natural colors and earthy tones.  We have a wide selection available for sale.  Please contact us for details and to find out about how to participate in the Shave'em to Save'em fiber program.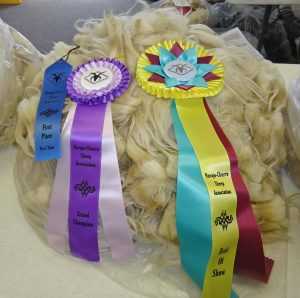 We Build Healthy Soils with a Holistic Approach to Management
We plan our grazing to be in the right place, at the right time, and for the right reason with our animals so our pastures and animals thrive. We monitor grazing on a daily basis and make adjustments as necessary to allow for enough recovery time for grass plants and provide optimum nutrition for our animals. Our animals are happy.  They move around freely and always have fresh grass and water. An abundance of green plants harvest carbon from the atmosphere and our grazing animals serve as "tools" to help us turn the carbon into organic matter. This carbon will remain in the soil for 35 years!
In 2019 we were recognized by Holistic Management International as a demonstration site. With careful management of grazing use of animal impact we have increased soil organic matter from 1.7% to 4% and higher and thus our productivity has more than doubled over the last 15 years. Contact us if you are interested in arranging a tour of our farm and / or receiving training and mentoring in Holistic Management.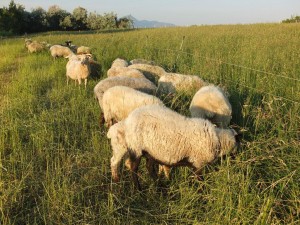 We Honor the Four Laws of Ecology
(Barry Commoner, from "The Closing Circle", 1971.)
One: Everything is connected to Everything Else. There is one ecosphere for all living organisms and what affects one, affects all.
Two: Everything Must Go Somewhere. There is no "waste" in nature and there is no "away" to which things can be thrown.
Three:  Nature Knows Best.  Humankind has fashioned technology to improve upon nature, but such change in a natural system is likely to be detrimental to that system.
Four: There Is No Such Thing as a Free Lunch.  Everything comes from something.
We Strive for Harmony:
"Conservation is a state of harmony between men and land.  Despite nearly a century of propaganda, conservation still proceeds at a snail's pace; progress still consists largely of letterhead pieties and convention oratory.  On the back forty we still slip two steps backward for each step forward….. In our attempt to make conservation easy we have made it trivial. The answer, if there is any, seems to be in a land ethic, or some other force which assigns more obligation to the land owner."  Aldo Leopold, from "The Land Ethic," from "A Sand County Almanac", 1948.
We offer Training in Whole Farm Planning and Holistic Management
We have a lifetime of experience in farming and professional natural resource management to share with you.  Our approach is based on real life experience. We offer a free consultation so you may discover how you may learn from our experience.  We offer training in person and via telephone for beginning and experienced farmers and ranchers.
Our training program includes:  holistic decision making and problem solving skills, financial and business planning, grazing and pasture management, land health and monitoring, and topics relating to Navajo-Churro Sheep production. We offer a distance learning program that allows you to stay on the farm where you are needed while improving your ability to see the big picture, respond to change, and become sustainable.  We are also available for speaking and in-person workshops on a variety of topics.  Find out more at http://www.wholenewconcepts.com
Copyright© 2000-2022, all rights reserved by Arriola Sunshine Farm and Arriola Enterprises LLC. You must request permission to use any content, photo or video from this website.